Invisalign is an effective way to discreetly straighten your smile!
Are you interesting in having straighter teeth, but aren't thrilled about having a mouth full of metal? You may be the perfect candidate for Invisalign! With Invisalign, your teeth are moved into position with a series of clear, plastic trays. They can be removed for meals and important meetings (as long as you wear them for 20-22 hours per day), and are practically undetectable!
In the past few years, Invisalign technology has made some real improvements, including a new, stronger material for the trays and more advanced techniques for complex movements. Basically, this means that patients who may have not been good candidates for Invisalign in the past can now be treated!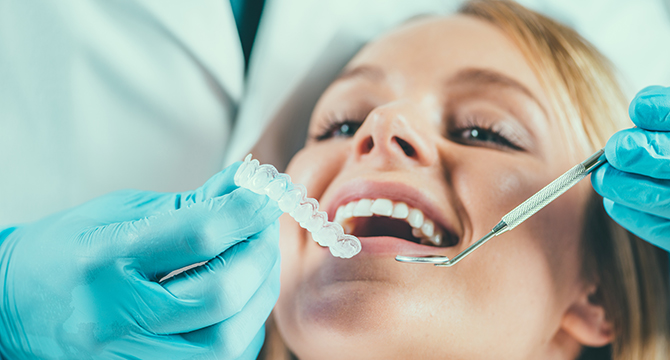 Metal vs Ceramic vs Clear Plastic
Nowadays, you have three basic choices for orthodontic treatment: traditional metal braces, ceramic braces, and clear plastic aligners. Of these three, Invisalign is the only one that is truly undetectable, even when having a face-to-face conversation. After wearing Invisalign for a few weeks, many of our patients report that their friends and family didn't even notice they were undergoing orthodontic treatment!
Accurate and Predictable Results
One benefit of Invisalign that surprises our patients is the ClinCheck software, a computer-generated preview of the movement of their teeth over the course of treatment. This wonderful technology allows you to see in advance exactly what your smile will look like after your Invisalign treatment is over.
Affordable Option for All Patients
In the past, Invisalign was more expensive than traditional braces. But due to recent technological advancements and increasing patient preference for Invisalign over traditional braces, the difference in price is very small. So don't let concerns over cost keep from you getting the smile you want!
If you're interested, simply give us a call at (850) 968-2106 to schedule a consultation, and find out whether you are a candidate. Or, simply ask us at your next appointment and we'll be happy to answer any questions or concerns you may have!