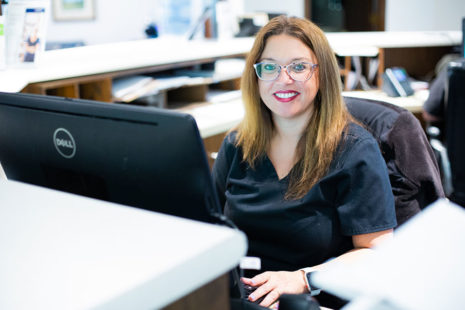 What to Expect On Your First Visit
Congratulations on choosing the best dentist in Cantonment, FL for your treatment (at least, according to InWeekly and our patients!) We look forward to meeting you and taking care of all your dental needs.
Here's what you can expect on your first visit with us…
X-Rays and Medical History
Your first visit to our office typically includes an x-ray that allows us to view the structure of the jaw, the position of any teeth that have not yet erupted, malformed roots, tooth decay, etc.
This visit also involves a review of your medical history. When you share your medical history, be sure to provide complete, up-to-date information on your health. Let us know if you have experienced recent hospitalization or surgery, or if you have recently been ill. We also will need to know the names, doses, and frequency of any medications you are taking — whether prescription or over-the-counter products — and the name of your physician. Inform us of any changes in your health or medications. This information will help us select the safest and most effective method of treatment for you.
Appointment with Dentist/Hygienist
After this, you will see one of our dentists or hygienist, depending on the reason for your visit. We will be available to answer any questions or concerns you have about the procedure, or your smile. If you're interested in a consultation for a specific service, let us know when you call, so we can be sure to allow plenty of time to answer all of your questions.
Mission Statement
Our practice is working together to realize a shared vision of uncompromising excellence in dentistry.
To fulfill this mission, we are committed to:
Listening to those we are privileged to serve
Earn the trust and respect of patients, profession, and community
Exceed your expectations
Ensure a creative, challenging and compassionate professional environment
Strive for continuous improvement at all levels
Book Now!